XenServer easily manages diverse workload types, a blend of operating systems, and complex storage or networking demands—even for the most challenging business use cases.
In addition to being a great choice for general server virtualization, XenServer is also a highly optimized hypervisor platform for Citrix Virtual Apps and Desktops workloads. With seamless feature integration at every level, XenServer leverages hardware-level functionalities to deliver a high-definition user experience, enhanced security, and streamlined operational management.
XenServer 8 Trial Edition
We want to allow all users to experience XenServer. The new Trial Edition provides all the functionality present in Premium Edition (other than limiting pool sizes). To get started, download the XenServer 8 Preview. Once installed, you'll automatically be running the new Trial Edition and see first hand how you can get from "0 to Xen in 10!"
All editions of XenServer 8 include support for Windows 11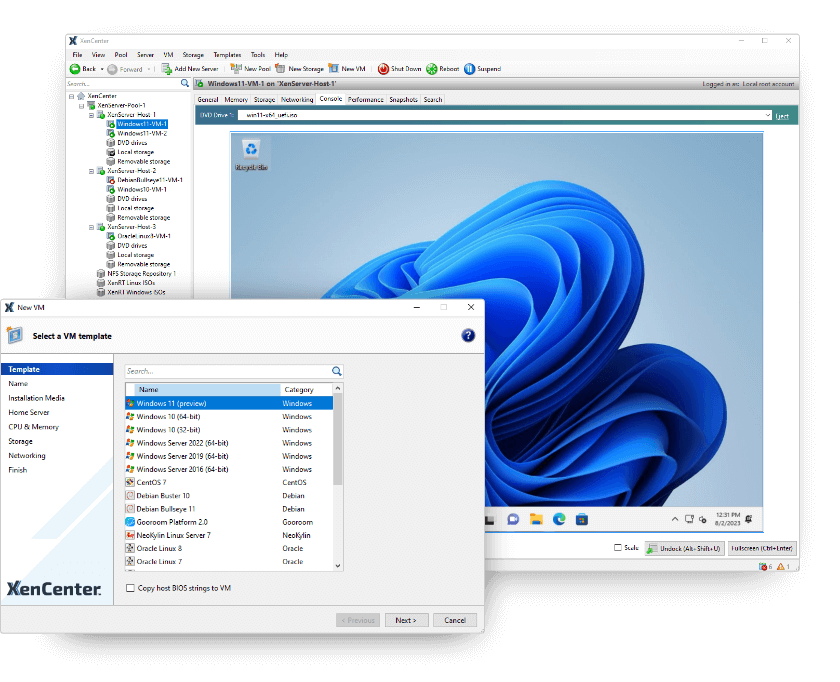 XenServer 8 feature matrix
XenServer 8 Preview is available in Standard, Premium and the new Trial Editions.
Download the XenServer 8 Preview, and you'll automatically be running the new Trial Edition, which provides almost all functionality available within the Premium Edition.
| Feature | Standard Edition | Premium Edition | Trial Edition |
| --- | --- | --- | --- |
| Production use | | |   |
| 64-bit hypervisor | | | |
| 64-bit control domain | | | |
| Hardware compatibility list (HCL) support | | | |
| Multi-server management with XenCenter GUI | | | |
| Active directory integration | | | |
| Role Based Access Control (RBAC) | | | |
| XenServer vApps | | | |
| Dynamic memory control (DMC) | | | |
| Performance reporting and alerting | | | |
| Live VM migration | | | |
| Heterogenous resource pools | | | |
| Live patching | | | |
| Apply updates via XenCenter | | | |
| Evergreen XenCenter | | | |
| Scheduled snapshots | | | |
| VM tools for Windows Driver update | | | |
| XenServer Conversion Manager | | | |
| Dynamic workload balancing & audit reporting (WLB) | | | |
| Export pool resource list | | | |
| Rolling pool upgrade (RPU) | | | |
| Maximum pool size | | | |
| Microsoft Windows Server 2022 guest support | | | |
| Microsoft Windows 11 support | | | |
| UEFI Secure boot for Windows VMs* | | | |
| Basic network security groups | | | |
| Open Virtual Switch (OVS) | | | |
| SR-IOV capable network cards |   | | |
| Efficient multicast support |   | | |
| Host failure protection high availability (HA) | | | |
| Disaster Recovery | | | |
| Shared storage connectivity | | | |
| SMB storage connectivity |   | | |
| Software-boot-from-iSCSI | | | |
| Shared nothing live VM migration | | | |
| Storage live migration | | | |
| Intellicache | | | |
| MCS read cache |   | | |
| PVS-Accelerator |   | | |
| GFS2 storage repository |   | | |
| Changed block tracking |   | | |
| Greater than 2TB VDI |   | | |
| GPU Pass-through | | | |
| GPU virtualization |   | | |
| vGPU live migration |   | | |
| Disk and memory snapshots for vGPU enabled VMs |   | | |
| Multiple NVIDIA vGPU support* |   | | |
Get started with XenServer